Fitbit has had a successful year which has seen them release both the Blaze and Alta already. The company at the moment has offered classic model sequels with both the Fitbit Flex 2 and Fitbit Charge 2.
The waterproof Fitbit Flex 2, which happens to be the first fitness tracker from this company, has really got heads turning. In the face of competition from a range of other water-resistant trackers including the Misfit Speedo Shine 2, Fitbit Flex 2 has taken quite a long period of time to finally heed to the needs of swimmers. The Flex 2 at least gives the impression of a real deal even on paper.
Design
Similar to the Fitbit Alta as well as the predecessors, the novel Flex 2 device is pursuing the fashion-mindful individuals as it allows you to switch the original bands with pendants, bangles and a huge collection of several classic bands.
To be specific, the Classic Band collections you can pick from are navy, black, yellow, grey, pink, lavender and magenta. You can also get a three-pack priced at $ 29.95, and this is an assortment of colors which could either be a Pink Pack (pink, lavender, magenta) or a Sport Pack (Grey, navy, yellow). However, the Classic Band on its own is not quite expensive as it goes for $ 14.95.
The elegant options include the Luxe bangles that come in rose gold and gold valued at $ 99.95, or silver at $ 89.95.There also is the pretty small pendants that are either gold ($ 99.95) or silver ($ 79.95) and have a 17-inch one size chain.
The entire wearable has a slimmer appearance on the wrist as compared to the first Flex, as its tracking module is smaller by 30%.Compared to the Alta, the Flex 2 is noticeably smaller. The Flex 2 also share a clasping style that is similar to the Alta's, making it difficult to get on your wrist. However, there are angles one can use to manipulate the Alta while closed, which you can use on the Flex 2. It would not be a surprise if Fitbit decides changing this though.
The wearable has no heart rate monitor or even Connected GPS unlike the Fitbit Charge 2. You'll therefore not be able to get your running distances even when you have your phone with you for a ride. The Flex 2 is pretty much simple but can still get your activity tracking, notifications and waterproofing up to a depth of 50 meters.
Notifications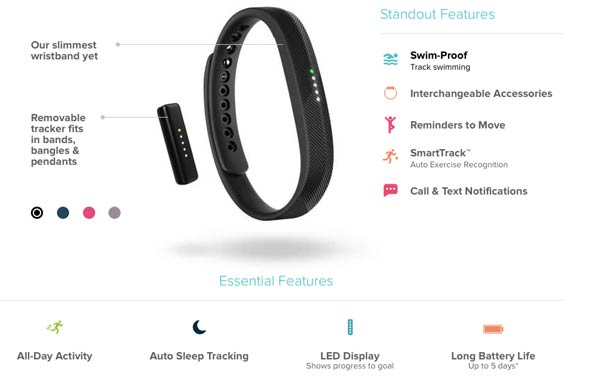 The Fitbit Flex 2 makes use of LED lights, just like other fitness trackers with no screens, it give notifications of your texts, calls and hourly reminders that you need to move. As at now, an individual cannot personalize the lights to their preference. This is because Fitbit has default patterns of vibrations and lights, which will help you to distinguish between texts, calls, alarms, progress on daily goals and reminders to move.
Tracking
The Flex 2 can track steps, active minutes, burned calories, sleep and hourly activity. All these can be automatically detected with the help of the SmartTrack feature. At the moment, only the common exercises can be tracked automatically and these include bike rides and running. This however is bound to change with an updated version of Flex 2.
Swimming both in pools and oceans is a new activity and feature which can be tracked with this gadget. Fitbit did mention that the device can monitor and auto-track swims, both in laps and duration. When you pair your smartphone to the Flex 2, it will display that you can use the Fitbit app to permit other additional exercises including swimming. This implies you will need to add swimming manually to the device with the help of the app. However, we hope that this will be dealt with by the gadget's full release.
The addition of the swim tracking feature is big in itself. Its competence however, remains to be tested in the pools; hopefully it may perform better compared to the Speedo Shine 2.
The Flex 2 will not incorporate some features as in other high end fitness trackers such as the TomTom Spark or Garmin Vivoactive hr, but definitely will be the most affordable and even the best option of the bunch. The Flex 2 can both be used in salty and freshwater as opposed to other fitness trackers.
Battery
The device has a 5-day battery life but it depends on how you use it. This surprisingly is below par as one would expect it to last more days since it doesn't rely on screen notifications. Its charging process also is similar to the Fitbit Blaze where you need to take away the tracker module and put it into a USB charger.
Introducing New Fitbit Flex 2:
Pricing
The gadget goes for a reasonable price of $ 99.95 as compared to the Charge 2 that is priced at $ 149.99.This is because the Flex 2's features aren't as advanced as the Charge 2's. However, this device is geared towards the same direction of providing a slim, waterproof and versatile tracker.
Read more here: Fitbit Accessories that Customize Tracker to Preferred Look
Conclusion
The Fitbit Flex 2 is quite exiting due to its waterproof feature. It being the smallest device in the Fitbit family, having a number of similar features to the Alta and priced relatively cheaply, gives it quite a significant boost.