Fitness enthusiasts are serious about what they do when it comes to their activities for keeping them fit and healthy. They will often do a lot of research, planning, and choosing of the different forms of technology to assist them on many different fitness levels. One of the technologies that many are using now is the Smart Buckle.
What Is A Smart Buckle?
This device is one that is very innovative and has been designed to fit in nicely with the attire that many fitness enthusiasts like to wear. It is a simple Smart buckle that can be used with an individual's standard watch. It is a fitness tracking device that has the ability to garner some important information that the user can make use of for their fitness goals and progress. One of the many advantages it provides is not having to buy additional tracking devices which is a money saver, plus makes tracking exercise activities super simple.
What Can It Do?

This creative device has the ability to track many different types of activities that are important to those who want to be fit. It can provide information on how many steps are being taken and what distance the individual has traveled at any given time. It can even detect how many hours have been dedicated to sleep and the number of calories that are being burned when the device is being worn.
What Is The Smart Buckle Compatible With?
Many individuals that are intent on setting themselves up with a fitness regime will utilize Apple Health or Google Fit and this device works in perfect harmony with these.
The Great Benefits And Features Of Smart Buckle
It has become the trend for many of those who are into fitness to want also to look good when they are working out or visiting their local gym.
Proof of this is the many fashionable clothing lines that are now on the market for fitness buffs. The Smart Buckle is made with this same premise in mind in that it has a very impressive look to it without compromising its functionality and capabilities.
This particular tracking device is allowing users another option besides having to go with the standard rubber and silicone that so many other devices are made of.
Some Of The Other Great Features Of The Smart Buckle Are:
It fits well with most watch bands that are comprised of 20mm cloth or leather or rubber.
The Smart Buckle is really easy to install with a pin buckle or a clasp buckle
It is made of high quality and elegant looking stainless steel
The brushed metal resists perspiration and scratching.
It has an IP67 waterproof level and is water resistant as well as dust
It stands up to the elements it is exposed to extremely well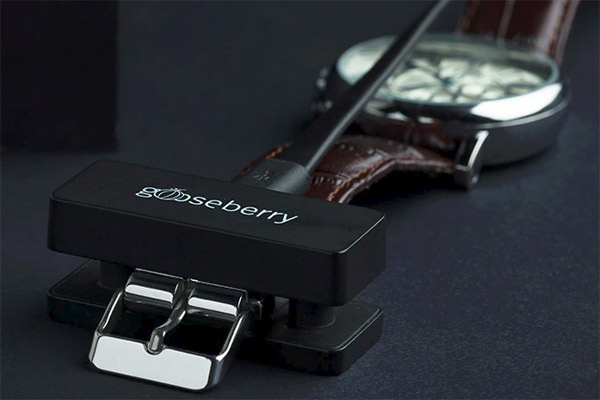 The Technical Aspects Of The Smart Buckle
As one may expect with a device that is as impressive as this one it is comprised of the very latest in technology. There is the option for being able to use this for either iOS or Android devices. The unit possesses advanced software that can communicate with fitness apps and synchronizes the collected data from the user. The data collected in its raw form is as code that is then converted into accurate measurements.
With the built-in technology the Smart Buckle is able to detect signals from the body such as pulse and pressure and can also detect information from the environment in which it is being exposed to.
The Importance Of Tracking The Heart Rate
With its ease of use the monitoring of the heartrate is really easy and is important. It helps the individual track their fitness levels and also helps to indicate if they may be over-exerting themselves which could lead to some injuries.
The Benefits Of Sleep

For those that are involved in exercising they need to be sure they are not only getting good sleep but that they develop a consistent sleep pattern. With the data that the Smart Buckle provides concerning sleep it allows the user to keep better track of this.
Another Wearable To Explore: What Makes The Shapeheart Armband An Amazing Fitness Resource?
Multiple Options
Another great feature built into this device is it allows the user to track their fitness efforts either daily, weekly or monthly. This is an important feature for those who want to see both their short term and long term efforts. This information allows the user to develop a more precise fitness regime and can help them from over exerting themselves because of the information it provides.
With this data, users of this device can be much more detailed in their fitness regime planning. They can zero in on specifics like the motions they do. Based on the quality that this fitness tracking device is comprised on it those who are exercising can rely on its accuracy.