Out of the blue, Alcatel has brought forth an impressive new VR device, the Alcatel Vision, which could be a potential rival to the Oculus Rift as well as many other VR devices. Most individuals probably won't consider Alcatel the first option when it comes to virtual reality. Most people actually thought that the Chinese company would come up with yet another smartphone-run headset when it announced that it will be joining the VR business.
Alcatel has been on the electronic making business for quite a while and is well known by its android smartphone series, the Idol. The virtual reality market has seen a surge in its money making potential in the recent times, and it's not surprising how companies like Alcatel have ventured full gear into this lucrative business.
VR headsets

In broad terms, virtual reality headsets come in two types: those connected to a computer which is targeted mostly at gamers such as the HTC Vive and Oculus Rift, and those run by smartphones like Google's Cardboard or Samsung Gear.
The Chinese company Alcatel, launched Alcatel Idol 4S smartphone last year, of whose packaging also had a simple VR headset. The company has now gone a notch higher introducing a standalone VR headset (it doesn't need a computer or a phone to work), the new Alcatel Vision. This approach could prove useful and quite strategic as one can now move freely enjoying the VR wherever they please. However, you will not want to move a lot without being capable of viewing the things around you in the real world.
Design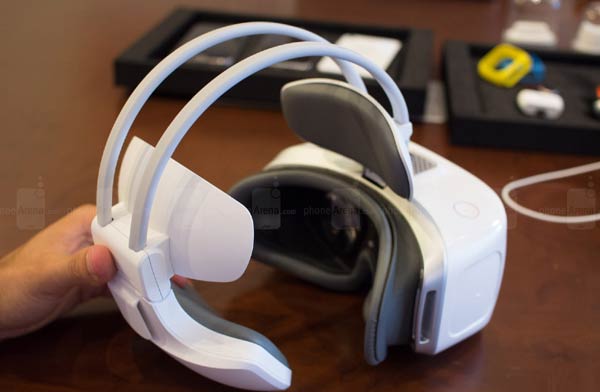 The Alcatel Vision is a standalone headset as it has its own engine room as well as visuals. What Alcatel did was basically put a smartphone into the headset and called it the Vision. The Alcatel Vision is like the entirely self-contained Microsoft HoloLens augmented reality headset.
On the right side of the device is the volume adjustment buttons, while on the left is a trackpad which is touch sensitive. On top is a plastic that houses its 3,000 mAh battery and it then smartly doubles as forehead rest. The headrest around the back is padded thickly .The Vision appears polished and thoughtfully designed. Alcatel reported that it had engineered a large mask area to accommodate glasses.
Specifications
The gadget has two AMOLED screens which are 3.8-inch and with a pixel resolution of 1,080 X 1,020 each. These deliver latency under 17 milliseconds and also boast 120-degree visuals.
The device is powered by Android Marshmallow with an Octa core CPU, a RAM of 3 GB, 32 GB of internal storage. It basically has everything one would expect from a smartphone only that it's inside a headset. It has Wi-Fi, LTE and Bluetooth connectivity, as well as gyroscope, proximity sensor and accelerometer. It also comes on board with a 3,000 mAh battery that will get you a gameplay of about 2-3 hours. The Vision's longevity is quite impressive, lasting about 3 hours off the charger despite the silicon which sucks a lot of power.
The Alcatel Vision may not be having the strong VR titles like those provided by the HTC Vive and Oculus Rift. However, it has been reported that it is teaming up with other companies such as video producers Jaunt VR, audio firm Fraunhofer and game publisher Magic Interactive Entertainment so as to offer preloaded content (a library of VR- optimized videos and games). It hasn't been made clear enough how one would access the VR experiences as well as the games on the device. A kind of Home page area probably would do.
Alcatel 360 Camera
Alcatel has also announced a new device, the Alcatel 360 Camera, which is a VR shooter that captures omnidirectional imagery. This enables you make your personal VR content. Both the devices will have similar specs and for a 360 degree shooting, an individual will be able to plug them directly into Alcatel Idol's micro USB port. The Alcatel 360 Camera idea isn't new exactly in the market since the Samsung Gear 360 and the LG 360-degree Cam already exists.
The Alcatel 360 Camera will retail for about $ 110 and will be on sale towards the year end. This price tag is significantly cheaper compared to the Samsung Gear 360 at $ 350 and the LG 360 Cam at $ 200.
Hands On With Alcatel 360 and Alcatel Vision VR
Price
The price of the device haven't been apparent yet but rumor has it that it will go for about $ 600 (between $ 560 and $ 670).This definitely places the device within range of the high-end VR headsets such as the Oculus Rift and HTC Vive. We are still waiting for an official communication from Alcatel regarding this as well as the launch date of the gadget.
Conclusion
Details of the Alcatel Vision sound really exciting on paper. This will be a great device to take on other big names in the VR industry. With Alcatel having a history of unveiling somewhat cheap devices, customers will be in line for a budget friendly VR headset device. The company has put together a well-built and comfortable device that will appeal to many.