YOGA a renowned kind of a warm up involves the use of various types of body movement and exercises intended to boost a person's level of flexibility as well as keeping the body physically fit. Importantly, yoga has a list of advantages associated with it some of them being; improves on posture, stress control and reduction, improves on physical fitness and body flexibility, enjoyment of a good sleep, and even makes you a little less moody.
Making yoga a daily routine requires some motivation. This motivation especially should come from the relationship between the exerciser and the wearable that a user may opt to use. This means that one has to choose the best kit that assures comfort and gives the appropriate satisfaction.
Below is a listing of the best wearables that will make you yearn for YOGA!
1. The NADI tight clothing
This is a smart pair that interacts with the skin through haptic vibrations. Every vibration adapts to the body's position, whereas giving an interpretation that guides the correct posture and form. As a matter of fact, Android has developed a NADI app that can be paired to monitor form and alignment based on the range of user body movement.
2. The Enflux clothing line
The enfllux has only one purpose, to ensure that you are exercising correctly. By the use of five motion sensors that fit inside a machine washable pair of leggings or a shirt, the setup is able to track movements including repetitions, range of motions and the power in real time. These sensors are able to execute instant feedback that improve form and can even tell you when you have over exerted yourself so that you can stop.
3. SmartMat Yoga Mat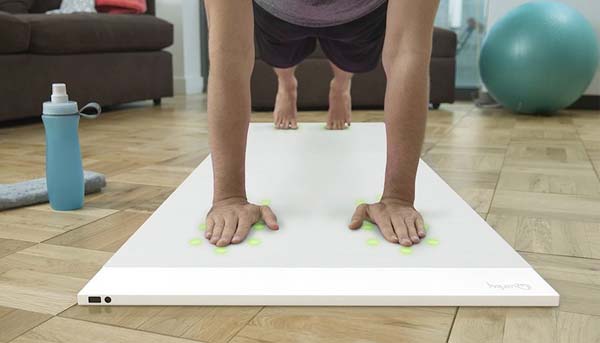 Although not a real mat, the SmartMat Yoga Mat is a high tech app that guides on Yoga just as it is done in a Yoga class. In fact, it is the most appropriate app to practice yoga with even when at home. When calibrated, the mat could help you learn your body shape and size. It is able to focus on correcting alignment, balance and achieving perfect pose.
4. Microsoft band 2
The best second gen and improving tracker/smart watch hybrid lets you add guided work outs from the Microsoft Health app that plays on the 'Band 2′. Through it, you can download the different work outs include; Yoga, with several levels developed by the Fitness companies.
Get to know more here: Fitness Tracker and Smart Watches to Track Your Body Details
5. Jawbone UP2
This is one of the best looking trackers that delivers accurate data and pretty much nails the basics. It is a very easy software to use. It is also known for step tracking, sleep monitoring and is fitted with a smart alarm. Therefore, the UP is appropriate for routine users, especially those who are passionate in achieving perfect results as well as high accuracy.
6. Misfit shine 2
A misfit shine 2 is not just an object on your wrist; it is a tracker that can help you count your steps. Fitted with a battery with a good life, the shine 2 has many capabilities such as listed herein; for one this object can aid in step tracking, smart phone notifications, and water proof for swim tracking and sleep monitoring.
7. Fitbit Charge HR
This device is designed to monitor the heart rate. It offers more accurate feedback of your activity and overall health than many of its opponent make. It's more useful in step tracking, sleep monitoring, all-day heart rate tracking, stop watch mode for workouts and resting heart rate tracked over a period of time. The Fitbit Charge HR therefore is very important in helping you control your pulse through the heart rate readings.
8. Garmin Vivo active

This device worn on the wrist is the best multi-sport wearable that by use of GPS helps you to accurately track running, walking, cycling and swimming with live pace and distances. More of its capabilities are, monitoring your daily steps, GPS run/ bike/golf tracking and notifications. The instrument is useful for the regular runners who need to keep a check on their running progress and the risk associated with them.
Conclusion
The list of the wearables that may be of great importance when it comes to Yoga is endless. Actually, there has been a lot of inventions and some inventions have not been launched yet while others are being researched on. The fact is; these objects are all over the globe and from various different manufacturers. Therefore, for a comfortable and good fitness, you must choose the best of these devices.