Ever thought about tracking your breathing? Well, with a wearable by the name Spire, you can easily track your breathing patterns. The company behind the wearable claims that learning how to breathe properly can help people improves on both their physical and mental health. Additionally, proper breathing can help people control their fears, emotions and keep minds.
The wearable resembles a small clip allowing for attaching to your bra or belt. It is easy to connect the gadget to your Android or iPhone device then using the Spire app, tracking the state of your mind and movements becomes easy. One thing about the Spire app is that it is in a position to send you alerts periodically whenever it detect changes in your breathing patterns.
How Spire Works?
Spire is comprised of an app and a wearable gadget. The wearable gadget contains a metal clip to allow for easy attachment to the body, and at the metal clip's back there is a padded sensor. The device is capable of interpreting your breathing data then using Bluetooth; it sends the data collected to the Spire app. Once your breathing data is in the app, it is de-noised and uses an advanced algorithm; your breathing pattern is classified using a wide range of laboratory studies.
This implies that Spire compares breathing data against a database filled with dozens of breathing data and using the information, it is able to make a rational hypothesis about your breathing. Moreover, Spire clearly understands that people have different breathing patterns and it takes this into consideration when making its conclusions. According to its developers, respiration remains to be the only function that people can directly control. Here are several examples given by the wearable in relation to the state of mind and breathing:
When undergoing stress, your body will tend to breathe rapidly
In order to calm yourself, consider taking deep breathes because deep breathes alters your bloodstream's carbon dioxide levels and this helps your blood to become less acidic
Taking breaths consciously helps connect you to present moments giving you full control again
The Spire App
This app is the major component of the Spire wearable system. Once you have launched it, you are in a position to view your breath's live feed. Supposing the app detects that you have a tensed breathing, it will start coaching you in order to achieve a calmer breathing. Additionally, it contains audio exercises and guided meditations referred to as 'boosts' that help you calm down.
The meditations are presided over by renowned meditation figures such as Deepak Chopra, Thich Nhat Hanh among others. Using the app, you can view how good you've been during the day. To ensure that you maximally utilize Spire, it allows for synching with different platforms such as your location, photo platforms, and calendar; this helps provide better insights about your breathing data.
About Spire
It was founded back in 2014 by a company that is determined to come up with technologies that are able to provide world-class human experiences. The headquarters of the company are in San Francisco and if reach them by phone, or by email.
Spire Pricing
Spire goes for $99.95 plus $7.74 shipping in the US and can bought online from Amazon.com or from Spire. Once you've bought the wearable, you will receive a warranty of up-to one year as well as a money back guarantee of approximately 30 days. This indicates that the manufacturer is very much confident with the device. Additionally, it perfectly works with Android devices iPhones. However, it is wise to check online whether your phone model is compatible with the device prior purchasing it to avoid disappointments.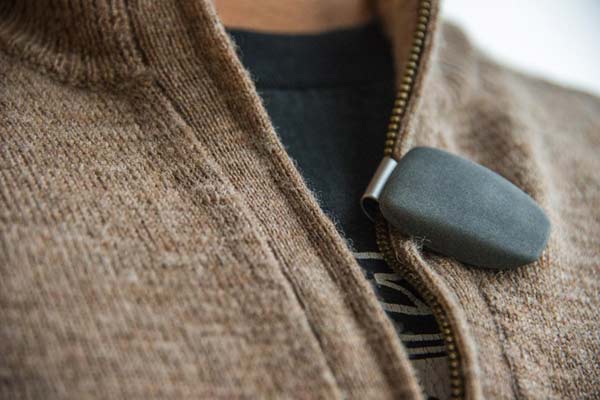 Customer Reviews
Most customers have described Spire as a 'uniquely made tool' that is able to monitor some of your health parts ignored by other wearable. However, they wished that it included additional actionable data such as using GPS to locate tensed body locations.
Read Also: Stress Beating Devices that You Need to Try
Other customers have praised it saying that is well-made and contains a wide set of features. However, they were concerned about its inability to seamlessly fit into their lives like other wearable. Additionally, they didn't like its over-reliance on their phones saying it could be easily forgotten in the house.
Conclusion
The Spire wearable device can track your emotions and activity throughout the day like no any other gadget. It also provides calming suggestions to help you calm down easily, and most customers have positively reviewed it.