This is an activity tracker that is meant to help you track the distanced you walked, the calories you burned and your steps to help you keep fit and healthy. It is a device that is responsible for helping you lose weight and achieve a healthy or desired body figure to make sure you look attractive. Using this device will lead to a fitter person who is capable of undertaking all her or his tasks and increase the productivity. This device ensures that you feel better as you will attain a better-looking body figure and you will meet your fitness goals. This is a device that is useful to any person who wishes to reduce weight as it helps in synchronizing your data to a wireless Bluetooth so that you can find your progress and push further for the attainment of goals. This device is available black, white or hot pink colors for you to make a choice and it is sold at $49.95 only.
Features Of Fitbug Orb Activity Tracker
This is an activity tracker has the following features:
1. Fitbug Orb App
It has an app where you can access it on your smart phone so that you can analyze the progress of your activity and find ways of improving. It helps you calculate realistic progress regarding your steps, the calories burned and sleeping patterns.
2. Personal Coach
It is a device that comes with person coach. It will, therefore, help you to move, even more, eat well and have better healthy sleeping patterns. The personal digital coach is responsible for keeping you motivated to progress on your well being and health activities.
3. Compatibility
It is a device that is compatible with your smartphone to help you track your progress using your phone as it connects to it via Bluetooth.
4. Light
It is a light device that is easy to wear on your wrist or under your clothing. It comes with a wristband and belt clip where you can wear on your belt or on your pockets when you don't want it to be seen by other people.
Benefits Of Fitbug Orb Tracker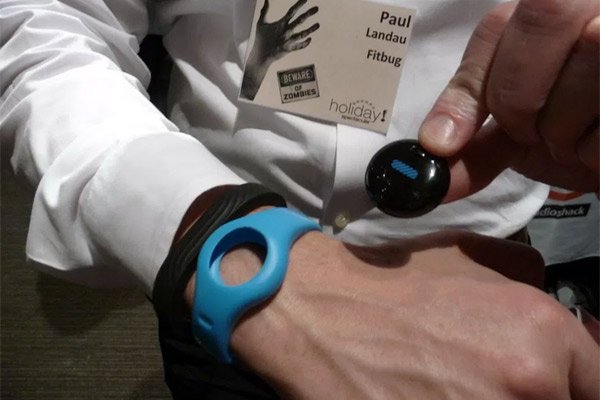 1. 24/7 Tracking
This is a device that is known to help you track your activities during the day and during the night. This is possible as this device track the distance you walked, the burned calories and steps during the day as well as track your sleeping pattern during the night. It is a discreet and button-sized device that is known to track your movement around the clock for improved patterns and performance to keep you a fit and healthy person.
2. Wireless Syncing
The device is capable of sending your data wirelessly to your smartphone or tablet as far as it is compatible with it. You will be able to view the data on the Fitbug app on your computer, tablet or on your smartphone. The data helps you analyze your progress and so that you work harder next time for improved performance.
3. Wear It Your Way
This is a super sleek device that you will find in three colors like hot pink, black or white. You can choose to either wear this device your way as it has accessories which include wrist wrap, lanyard and belt clip which transforms your activity tracker into a fashion statement. You can also hide it discreetly as you can wear under your clothing using the belt clip.
4. Digital Coach
When using this device, you will be able to receive motivation weekly that helps you attain your health and well-being targets. You will be able to access to the Fitbug Orb's online platform where you can log what you have eaten, set your goals and track your daily activities. It calculates precisely realistic goals to help you hit based on your tracking activity. You will be able to receive the newsletter on a weekly basis which contains articles about well-being, nutrition, health, and activity. You will be motivated as will gain from expert information and advice to ensure that you are in the right direction and to get where you wish to be easily.
Disadvantages Of Fitbug Orb Tracker
1. This is a device that is compatible with iPhone and Samsung Galaxy S4 Android gadgets only.
2. It has no screen where it can display your progress and therefore tracking you activity instantly becomes a problem
3. It has complicated setup, messy online tools and confusing phone software which makes this activity tracker hard to operate.
Another Wearable to Explore: Stylish Touchscreen Fitness Wristband Tracker By Archon
Conclusion
Keeping fit is a crucial thing that we should always think of because it will help improve your overall well-being and health. With the help of fitness trackers available in the market like Fitbug Orb activity tracker that helps you track your steps, sleeping patterns and distance walked. You can order this device online, and it comes with digital person coach to help you move on and achieve your goals. You can also access weekly newsletter which contains information that ensures that you are moving on the right direction.