Technology has really changed the world. Thanks to technology, people are now being treated with lots of exciting equipments. For example, the field of wearable devices has seen the creation of numerous exciting devices. Now, there is this camera that is able to take a photo when an individual blinks. This is some cool stuff that has left everyone talking about Blincam. Most technology fanatics remember the AR eyewear. This pair of lovely smart-glass changed photo taking completely. It was in a position to take photos using its in-built camera when the user blinked. For this reason, the user did not have to struggle figuring out how they would capture those awesome memories because the work-friendly smart-glasses had their back.
Today, the Blincam wearable has taken a similar concept. This provides users with an opportunity to experience this awesome piece of technology. With the wearable, users can now capture quality photos with each blink. One thing about the Blincam wearable is the fact that it has ditched the AR stuff to develop a wearable camera that is blink operated. In addition, the Blincam wearable allows for clipping onto a wide range of glasses.
The wearable developers took their time to create an easy to use device. You do not have to be a technology genius to use this wearable camera. It has a sensor that allows users to take blinking shots. The sensor is in a position to detect the eye movements of the user when they want to take a blinking shot. This leads to the activation of the camera shutter and a shot is taken. This means that the Blincam wearable camera is greatly dependent on its sensors to execute its work.
The wearable's sensor is specially designed to differentiate between natural blinks and firm blinks. For this reason, the user is sure that they are not taking off shots all the time. If this wasn't the case, users could be taking off shots all the time without their knowledge and this could be disappointing. In addition, the images taken by the user using the wearable camera can be safely saved for future memories. This is because it allows for wireless transfer of images to the user's phone. Similarly, images can be saved on a microSD card. This means that users can take as many images as possible without worrying where to save them.
In addition, users looking to break up the stylish specs of their look, the wearable device can allow them to do just that. This is possible through its high definition sensor CMOS. Although there is no any detailed information related to the count of its megapixels, the wearable camera is in a position to take high quality photos. This means that users can use this wearable device as their main camera to take high quality photos during events and other outdoor adventures.
To ensure that users get the best out of their wearable device, the camera comes with a high quality battery. This battery is in-built and can go for long without the need to recharge. This makes it a great companion for people who like being outdoors. Nothing is more disappointing than being in the fields with a high quality device that is out of charge. The developers had this in mind when creating this device that is why they equipped it with a long lasting battery. In addition, the wearable camera comes with a micro USB support system that allows for power top up. This ensures that users enjoy using their devices all the time anywhere.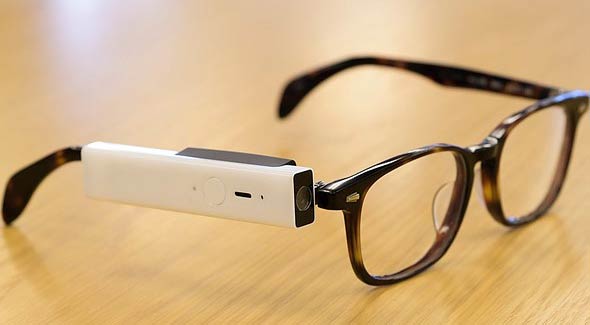 The company behind the Blincam wearable device is based in Tokyo. Currently, it has a special offer to its customers whereby they can get a chance to experience this piece of amazing technology at a reduced price. It is offering its blink activated wearable through a crowdfunding website based in Japan known as Makuake. Through the website, people can now get this blink activated camera for only $200.
People who would love to have this wearable will have to wait for some time. This is because shipping has not yet began, but it should begin in the coming few months. According to a trusted source, shipping is scheduled to begin early 2017. It is only a few months to go from now before people get the chance to experience this awesome piece of technology.
Conclusion
The fact that the company behind this tech took time to create the wearable device makes the camera a high quality piece of equipment. It comes installed with a sensor to allow for taking blinking shots. The sensor takes blinking shots by detecting eye movements to activate the camera's shutter. To discourage off shots, the sensor is designed in a way that enables it to differentiate between the user's natural blinks from their firm blinks. It has a high quality battery that is in a position to retain power for a relatively long time without recharging. In addition, it supports a micro USB to enable recharging when the battery is low.