Trekking can be exhausting and fun especially when hiking in a new area. To make your hiking more adventurous, it is important to have a profound sense of direction to ensure that you don't get lost. For you to be able to return where your hike began, you need to have UWear Smart Watch. The wearable offers a one of a kind technology that allows wearers to get through their outdoor adventures without getting lost.
What Exactly Is Uwear Smart Watch?
UWear Smart Watch is a remarkable product designed to help hikers maintain the right heart rate and speed when hiking. More importantly, it helps hikers return to their original starting point with much ease. It comes with an impressive navigation system not forgetting the ability to monitor the wearer's heart rate perfectly. These two features are intended to keep you safe and on track. Some helpful and fun features of the UWear Smart Watch include:
Water resistance
A heart rate tracker that doesn't require a chest strap
A perfect battery that can last up-to 45 days
An inbuilt navigation system
Ability to share user location with others
Although Smart accessories are the next big thing, they do not take care of the needs of hikers. As said before, hiking can be overwhelming and exhausting, and the last thing you want is worrying about getting lost. You don't have to guess your steps when out there; instead feel confident all through your adventure with UWear Smart Watch.
How Does The Device Work?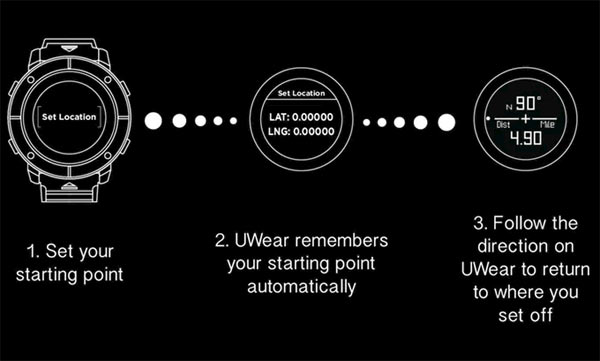 The effectiveness of the UWear Smart Watch can be attributed to its many specs. From the multiple navigation systems to the heart rate tracker, the UWear Smart Watch is what your hikes need. Its navigation systems include:
GLONASS, a program mostly used by Russians for tracking
BDS, a version of GPS mostly used by the Chinese
GPS, to help get current location and the exact speed
The manufacturer employs navigation systems derived from multiple areas to make sure that the user gets the help they need. The inbuilt health monitor uses photoplethysmography, which is capable of reading the pulse of the wearer from the wrist. It is designed to help watch your heart rate to prevent overexertion, and more importantly, it can gauge time to take a break. The UWear Smart Watch comes with an SOS button for using in case of danger. When activated, it notifies the friends you've linked to the program.
Easy To Use

The best thing about the UWear Smart Watch is its ease of use. Once you've purchased this device, the digital display will help you figure out your hike's starting point. It will retain this information and use it to guide you back to your initial location after your hike. Since the path is already inbuilt, you don't need to direct your UWear Smart Watch back. Everything from the direction you take to your pace is logged to ensure correct and safe path back to your starting point.
Uwear Smart Watch Pricing
According to the current information available online, the cost of the UWear Smart Watch is around $2,000. However, the option to directly purchase the device is currently unavailable. It is currently part of some Kickstarter campaign that gives the consumers an opportunity to fund products in their infancy to enjoy a major discount later.
The Kickstarter campaign is based on pledges. Therefore, the UWear Smart Watch offers a number of packages to persuade consumers to donate. Here are some Uwear packages:
The $768 and up early bird special offering one watch
The double pack special offering two watches for $1,500
$3,700 for a set of five devices
Once the Kickstarter campaign is over and successful, most companies still offer their customers an opportunity to pre-order. Consumers who donate should wait for their shipments until August 2017.
How To Get In Touch With The Manufacturers Of Uwear Smart Watch?

The best way to contact the manufacturer of an upcoming device is by phone or email. Regrettably, you cannot ask the creators of the UWear Smart Watch your questions because the website doesn't provide any email address or phone numbers. However, if you have any pressing questions about this product, you can publicly post your questions through the product's Kickstarter page. The page offers a forum to post questions to be discussed.
Another Interesting Wearable to Explore: The Nike Physical Headphones with Fitness Tracking and Wireless Capabilities
Conclusion
Presently, you will find plenty of smart gears online. However, nothing matches the precision provided by the UWear Smart Watch. The UWear Smart Watch has been marketed as a product that will help individuals who like exploring outdoor activities such as hiking. People with no sense of direction are likely to benefit from this device as well. To stay on track and safe during your hikes, the UWear Smart Watch is the only way to go. The smart watch offers great features designed for outdoor activities. The fact that the UWear Smart Watch uses navigation systems derived from various areas around the world guarantees accuracy. Its water resistance ability and strong battery makes it must have the device.