The Kardia band have recently made new innovation on Apple Watch strap; a medical grade for monitoring the heart. It is made and distributed by a company in the US by the name Alivecore headed by former Google engineer Vic Gundotra. This company also stocks makes and distributes other devices on its online store. Some of other devices stocked include iPhone 6 and iPhone 5 cases that are used to read the heart rate by users placing their fingers on a metallic plate attached. This smart strap watch is able to monitor and detects your heart rate activities. It is capable of recording your heart beats per minute. However, the readings on bpm can be interfered with if you are having a tattooed skin. This medical device claims to have the potential of detecting any heart-related issue in your body like shortness of breath, irregular heart rate, palpitations, and other heart-related risk factors that could lead to stroke. The Kardia Apple Watch band will be released on market via their website and third party retail traders like amazon. You can make a pre-order of this product as it will be available in the market in early November, it will come in two options of 38 mm and of 42 mm.
How it Works?
The Kardia band medical smart watch works by using electrocardiogram technology EKG. A strap is tied on the wrist, where it uses the new technology to detect the electoral activities that are produced when the heart beats. All the recorded data is then sent to Alivecor companion app, where it is later synced with the Apple health for easier sharing of the retrieved information with your physician so that it can be used to make a diagnosis. Users are required to place their thumbs on the screen of the watch to record heart activities. You can also speak on the watch's microphone so that it can relate to the detected information in order to get details on any shortness of breath, palpitations, irregularity in heart rate, and dietary habits that might be linked to heart rate fluctuations. The Apple Watch is fitted with normal and unreadable detectors which tell whether the readings of your heart rhythm and heart rate are normal. This will make it possible to tell the best time when you can repeat an EKG so that the physicians will receive the recordings of high quality only.
How to use the Apple Watch?
You need to navigate the Apple Watch app.
Correctly trace your thumb on the watch sensor
Wait for about 30 seconds for the heart analysis to be completed
As the watch analyses you can speak on the watches microphone for that message to be relayed to give a detailed information.
You can record the single-lead EKG by touching the Kardia band integrated sensor, which communicates with Kardia by Alivecor watch app. The AF atrial fibrillation detector will use an automated analysis process of Kardia app to detect it there is an AF in EKG, which is the most common diagnosis in cardiac arrhythmia that leads to most stroke attacks.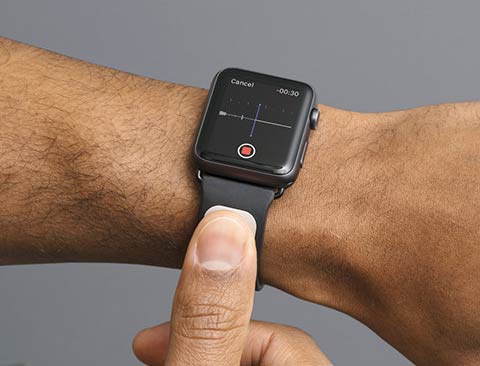 The gathered recordings are stored and are made available on iPhone Kardia app version. This makes it easier for the physician to obtain the reference in case of any suspected activity recorded during reading.
This app can also be connected to the health app on Apple's stock to make it easier for the users to integrate the EKG readings into an established data for fittings like calorie intake and step count for further assessment in your well-being.
Benefits of using Kardia Apple Watch
It gives understanding on fitness levels and calorie burn.
It can detect an irregular heart rate, atrial fibrillation which leads to stroke attack.
It assists the physician to relate the collected information with the clinical signs to make a correct diagnosis.
It is easier to use. It gives the results within a short period of time.
It can detects heart related complications like irregular heart rate, shortness of breath, and palpitations.
It is small and portable.
Conclusion
Release of Kardia Apple Watch in the market will play a significant role in assessing the risks associated with the heart. It will be of great use for the physicians to relate the gathered data and correlate with the clinical signs and the client's complaints. This will facilitate a comprehensive findings on the heart related complications and stroke. Users will also benefit on the health fitness and general well-being of the body.