This is a smart helmet that has been designed through utilizing advanced new technology for the transformation of any cycling head gear into an innovative helmet. It is a device that boosts of its unique features that make this product possible to interact with and helps in controlling your smart phone safely while you are riding. It is designed to help in keeping your ears open while you are riding and your hands-free for your own safety.
The reason behind designing of this effective helmet is to help in minimizing the accidents that have been caused by most riders due to use of their smart phones while riding. Using your smart phone while riding will affect your visual, cognitive, kinesthetic and auditory functions and therefore accidents can occur easily without your knowledge.
This is so because navigating through your phone to change the kind of music you are listening or receiving an incoming call will require you to concentrate on your smart phone and therefore, you will not be careful and you might cause accidents. With the coming of this helmet, the cyclist will be able to operate their smart phones such as changing play list, receiving incoming calls or other navigations without having to touch the phone.
The Team Behind Ahead Well-Designed Helmet
The team behind this advanced helmet is based in New York, and it is a team that is supported by Samsung C-Lab. The support offered has helped the team in creating this unique and vastly adaptable helmet solution for combating causes of accidents by use of smart phones. This has resulted in a helmet that has captured the attention of many tech industries new providers who include Wearable, TechCrunch, CES Las Vegas and Trendhunter.
Functions Of This Helmet
This is an advanced helmet that is meant to help you perform many functions of any smart phone while you are riding without having to touch the phone. These basic functions include the following.
1. Make Calls
This is a helmet that will help you to make calls as you wish without having to check your call log or contacts list to call a person. It is responsible for helping you receive incoming calls without also having to swipe across your smart phone, and thus it keeps you on track while riding to prevent accidents.
2. Play Music
This helmet is meant to help you change your music play list as you desire without having to navigate through the phone for searching for your music. It ensures that your favorite songs are played while you are riding. This will ensure that you remain entertained fully while you ride without having to interfere with your concentration and thus remain safe.
3. Track Fitness Activity
You will be able to track your fitness activity as you ride with the help of this device. It might help you in knowing the amount of calories you burned; the distanced you traveled and other significant fitness activities. This will help you analyze your progress and improve for a healthy person.
4. Interact With Other Technologically Invented Personal Assistance Like Siri
This helmet will help you interact with personal assistance like Siri as it makes it possible for you engage with your smart phone without being distracted from the road and thus ride safely.
5. Deliver Turn By Turn Navigations
This helmet ensures that you navigate through your phone for other services easily without touching and this makes you cycle safely.
Unique Features Of This Device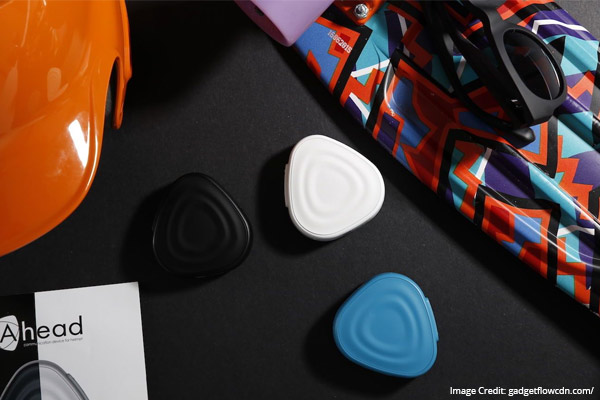 The product has the following summarized features to help it function as expected:
1. Innovative Microphone
It has a microphone that has been designed to use lucid voice capture technology in delivering quality and very clear audio at about 40 mph speed.
2. It Is Compatible With Any Helmets
This is a device that can be used with other helmets as you can attach it with 1 or 2 separate mounts, which suit bike helmets and other solid helmets. It is a light device that is known to offer various customized options for you through its Ahead app.
3. Dust And Water Resistance
This is a device that has been constructed to make it suitable for many conditions such as offering dust and water resistance capabilities up to IP45. It is also rain proof to make sure that you also ride even when it is raining.
4. Battery
Its battery is designed to last for about three days for your own use.
See More: Sixpad Exercise Suit- A Gadget You Should Own
Conclusion
This is a helmet that was initially designed to be used by those individuals in constructions so that they can communicate effectively. It is a device that helps in combating the dangers of using your smart phone while riding and therefore helps in preventing accidents. It is a device that is compatible with your Android or iOS smart phone as well as being compatible with other helmets.
It is a light weight helmet that is responsible for helping you perform a wide range of smart phone functions these functions can be receiving or calling, playing your favorite music, interacting with personal assistance like Siri and ensures that you track your fitness activities for a healthy person.